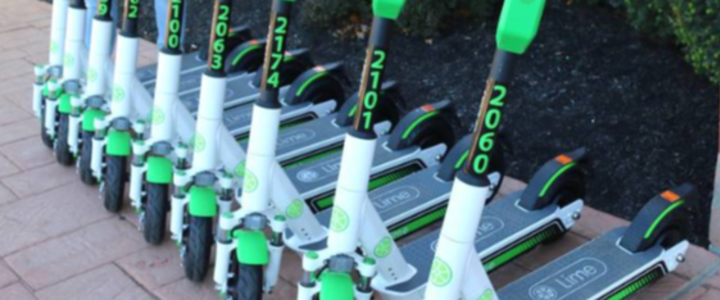 ADVISORY: Lime + Elizabeth, NJ to Roll Out E-Scooter Share Program
LIME MEDIA CONTACT: Chloe Chik - chloe@pythiapublic.com, 650-483-9713
Elizabeth, NJ – Lime— the global leader in shared micromobility— and the City of Elizabeth will hold a pre-launch event, unveiling its scooter-share program at the River Trail on Wednesday. The event will include a scooter safety training course for police officers and Elizabeth City employees.
Scooters will be available for public use on Friday, November 1st. Elizabeth Mayor J. Christian Bollwage welcomes Lime to launch a pilot with up to 400 scooters. This will be the third scooter-share program in New Jersey and first in Union County.
WHAT: Elizabeth Lime-S and Scooter Launch
WHEN: Wednesday, October 30th at 3pm
WHERE: River Trail entrance on South Broad Street
WHO: Lime, Mayor J. Christian Bollwage
Lime scooters are $1 to unlock and $0.20/min to ride. Lime is GPS-enabled, making it simple for riders to find, unlock and pick up a nearby scooter using their smartphone. When the ride is finished, riders simply end the ride with their respective mobile apps and responsibly park by the street curb, or at a bike rack.
Lime is the largest shared scooter and bike provider in the United States, operating in more than 120 cities on five continents, with more than 100 million rides already taken. 
ABOUT LIME: 
Lime is the global leader in micromobility, serving more than 120 cities in more than 30 countries on five continents. Lime is revolutionizing mobility in cities and campuses by empowering residents with a greener, more efficient, and affordable transportation option that also improves urban sustainability. Lime partners with local key stakeholders to systematically deploy a multi-modal smart mobility fleet enabled with GPS, wireless technology, and self-activating locks. Lime dramatically improves urban mobility by making the first and last mile faster, healthier and more affordable for riders. Funded by Silicon Valley's leading VC firm Andreessen Horowitz, Lime is based in San Francisco, CA. Learn more at li.me.