Asian Restaurants in Elizabeth, New Jersey
When visiting Elizabeth if you have a craving for Asian food, try out the top restaurants that serve the best in fusion cuisine from a variety of traditions.
Thai Fusion in Elizabeth
What is it about spicy sweet glazes on lightly fried meats that make your mouth start watering? Or the crunch of water chestnuts and baby corn that have your fingers reaching for chopsticks? At Noodle Fan in Elizabeth, you will have the opportunity to participate in a fusion of flavors from Thailand, but incorporating the experiences of Chef Oudy, Noodle Fan's founder, from all over Asia.
Starting with something light, order the vegetarian-friendly shiitake spring rolls for an assortment of fresh flavors along with sweet chili sauce for a bit of spice. If you'd rather start with something a bit more fun, the chicken satay comes served on sticks, and any county fair or festival-goer can attest to the delight of meat served on sticks.
If you want a delicious dish and to feel like a sensible adult who makes smart decisions, order the som tum thai salad. It mixes ground peanuts, tomatoes, and beans with papaya and hog plum! Hog plum is a small fruit about the size of a cherry tomato, with a subtle citrus flavor.
Now for the heavy-hitters: noodle and fish dishes! Chef Oud specializes in his take on traditional Thai noodle dishes and they're good enough to be requested by Arnold Schwarzenegger and the Thai royal family when they come to America. The pad thai is tasty and filling, but if you want it really spicy, ask for "Thai spicy." The drunken noodles with chicken will also please most palates. Red snapper is a fish used for its consistently great flavor in many dishes, and the fish house curry at Noodle Fan is no exception. The chu-chee red curry sauce counters the sweetness of the coconut milk perfectly.
And now for dessert. When in season, mango with sticky rice is a proper end to the meal. When mango is not available, the fried banana with Ice cream hits the spot.
Chinese and Japanese Influences on Peruvian Cuisine
If you're feeling like an Asian cuisine experience rooted in the diaspora of Chinese and Japanese immigrants to Latin America, try Peruvian which blends indigenous, European, African, and Asian food traditions. Tumi Restaurant has taken flavors found in Asia and married them into traditional dishes from Peru.
The Chinese influence in Peru goes back to a wave of immigration in the mid-1800s, and the blended culinary techniques became known as chifa, from the Cantonese chi fan for "to cook rice" or "cook a meal." At Tumi Restaurant, many rice dishes are fried rice or arroz chaufa. The arroz chaufa de pollo is chicken fried rice served with Andean flair. Another Cantonese-Peruvian specialty is tallarin saltado which is sauteed chow mein noodles with chicken, beef, seafood, or a mixture of proteins. And of course, one of the most popular dishes in Peruvian cuisine is lomo saltado which is a stir fry of beef, vegetables, rice and french fries with a zing of vinegar and Andean potato heartiness.
By the turn of the 20th century, Japanese cuisine and expert preparation of seafood expanded the menu of Peruvian classics with Nikkei, which describes both Japanese-Peruvian cuisine and the Japanese diaspora in Latin America. Ceviche, fish "cooked" in lime juice is on the seafood menu at Tumi, in multiple styles. Before the Japanese arrival in Peru, squid and octopus were not part of the food culture there. For a tasty example of Nikkei at Tumi, try the ceviche de pulpo ― octopus cuts marinated in lime juice.
Enjoy all the possibilities provided in Elizabeth's Asian cuisine. If you feel overwhelmed by the choices, just pick one then go back tomorrow for something different!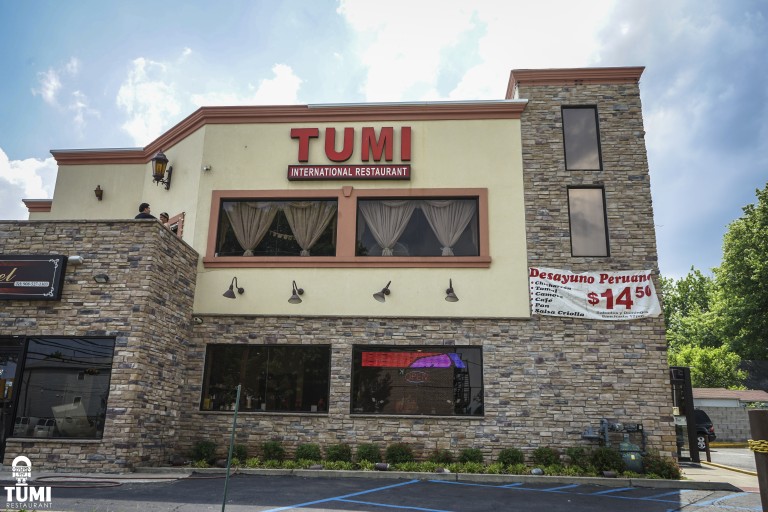 Tumi Peruvian600 Bayway Ave.
Elizabeth, New Jersey 07202

Go