Peruvian Restaurants
Simple dishes with extraordinary flavor. That is what comes to mind when you want a Peruvian meal. Recently, Peruvian staples have come into vogue with the rediscovery and remixing of items like quinoa and kiwicha into popular dishes. Quinoa is a powerful protein with a texture somewhat similar to couscous and is often substituted for rice for a less starchy meal. Mix in beans, potatoes, and corn as staple ingredients, and the options for tasty dishes explode.
So, how does this play into your stay in Elizabeth, New Jersey? Through dining establishments like Tumi Restaurant, that's how! Step into this two-story eatery, grab an Inca Kola, and settle in for some decision making with an incredible menu.
Starters
Begin with an order of Yuca a la Huancaina, fried cassava covered in yellow Peruvian cream, or Anticuchos, which are beef heart kabobs. These items will set the stage with a taste straight from the West Coast of South America. And speaking of the coast, an order of Choros a la Chalaca will introduce you to mussels with a splash of citrus.
Authentic Entrees
As Europeans came to the South American continent, they infused Peruvian dishes with meat like beef, poultry, and pork. A popular item here at Tumi Restaurant is Pollo a la Brasa, a roasted chicken served either whole, halved, or quartered depending on your appetite or the number in your party.
Another well-regarded dish is Bistec a lo Pobre which includes steak with white rice, french fries, and plantains, all topped with a fried egg and hot dog. This is a meal that will satiate the hungriest of guests!
Pork options include the Chuleta served with two sides of your choice. Will you choose green fried plantains, known as Tostones, or boiled potatoes, known as Papas Sancochadas, to complement your perfect pork chop?
For a dish with an Italian twist, go for the Tallarin Verde con Milanesa de Carne and enjoy the taste of breaded steak on a bed of linguini covered in a Peruvian green sauce.
Seafood
But enough with the beef and chicken, you're looking for a taste of the sea, right? Tumi Restaurant serves an amazing Pargo Frito: a red snapper deep fried and served with rice, salad, and cassava.
For more of a sampler from the sea, order the Ceviche de Mariscos and enjoy the different textures and flavors of octopus, mussels, and shrimp marinated in lime juice. And, if you want the best of both land and sea, you're looking for the Surf & Turf, also known as Mar y Tierra, a full meal of skirt steak, shrimp, and mussels in a garlic sauce.
Dessert
Now for the sweet stuff at the end of the meal, because who could forget about dessert? If you've never tried Mazamorra Morada, you're missing out on a purely Peruvian treat of purple corn and fruit. The look of it alone will captivate you, but dive in for a delectable delight. If it's not your style, perhaps the Alfajores will satisfy your sweet tooth: cookies filled with dulce de leche and topped with powdered sugar.
Whether you are looking for wonderful seafood, simple chicken and rice, or meats grilled to their very best, a Peruvian meal — especially in the heart of Elizabeth, NJ — is a plan sure to satisfy.
Dine out in Elizabeth and experience diverse eateries serving up Latin cuisine, barbecue, hearty Italian fare, and much more.
Elizabeth has a diverse food scene with many international cuisines to choose from. From Asian cuisine to Latin American, Caribbean, and cuisines from European countries like Italy, Portugal…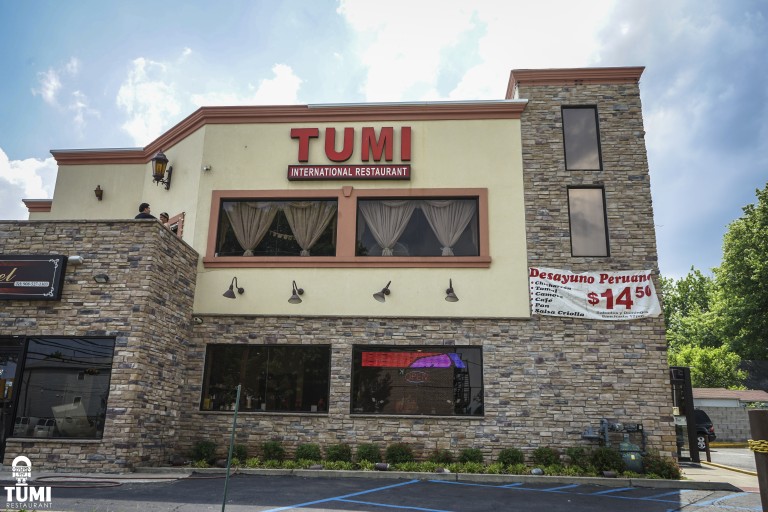 Tumi Peruvian600 Bayway Ave.
Elizabeth, New Jersey 07202

Go