UPDATED: February 3rd, 2022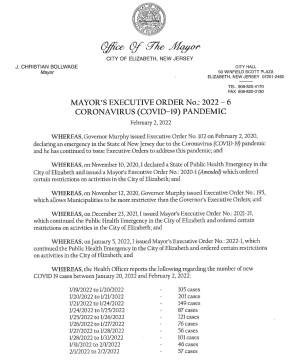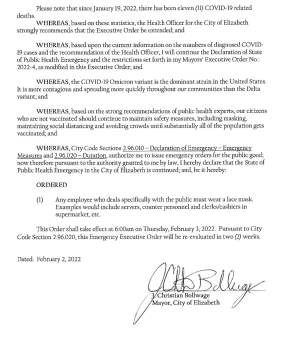 ---
Important Info Regarding COVID-19

Follow along with the Gov. of NJ on - COVID-19 Briefing

 Follow along with the Mayor of the City of Elizabeth on Instagram - COVID-19 Updates
In light of the ongoing issues related to the Coronavirus (COVID-19), the City of Elizabeth and the State of New Jersey want to reassure our tourism partners that we are taking every step in being proactive against COVID-19. Please visit the NJTT website here for more state details, updates, and information. 
How many people have gotten COVID-19 vaccines in New Jersey? How is New Jersey collecting and protecting vaccination data?
For the latest number of COVID-19 vaccines administered by county, race/ethnicity, age, and gender, refer to the vaccination overview tab on the Department of Health's COVID-19 dashboard. The dashboard also includes an estimate of how many out-of-state New Jersey residents have been vaccinated. Limited data is available, so this number is an estimate and is not reflected in the county, racial, or demographic breakdowns.