Historical Walking TourElizabeth Ave & Broad Street
Elizabeth, New Jersey 07201

Overview
Elizabeth's Historic Heartline Walking Tour
Are your kids bored with history? Do they have a hard time finding it relevant?
If so, Elizabeth's historical city walking tours can help give them a brand new perspective. With smartphone-enabled audio accompanying historical streets and architecture that span over 350 years, even the biggest history detractors will love learning about Elizabeth's rich past.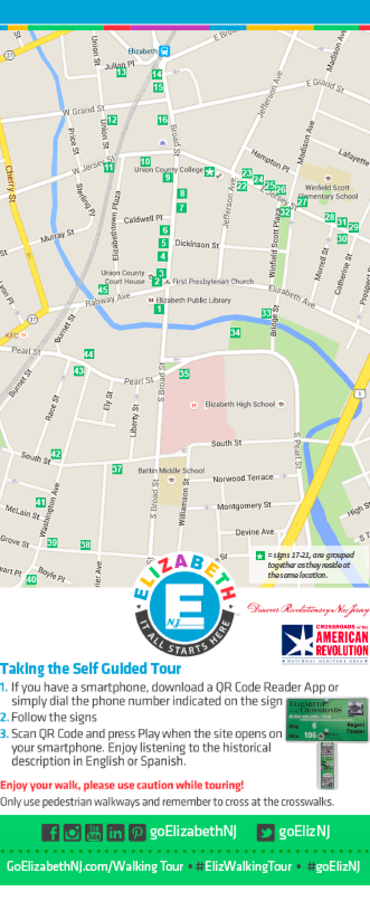 What is Elizabeth's Historic Heartline Walking Tour?
Elizabeth's Historic Walking Tour is a self-guided tour through midtown Elizabeth. Stretching 3.5 miles, the walking tour exposes visitors to the city's rich history, starting with the initial land tract sale from the Indians of Staten Island in 1664, and culminating with Elizabeth becoming a transportation hub through railway, highway, and steamboat shipping.
Walking Tour Highlights
There are many historical sites that are part of the Elizabeth's Historic Heartline Walking Tour. The walking tour, for example, includes the Belcher-Ogden Mansion. It also features the Bonnell House, which is one of the oldest residences in the state, built between 1670 and 1685. The walking tour also stops at the Snyder Academy of Elizabethtown, First Presbyterian Church, Elizabeth River Trail, the Elizabeth Public Library, Liberty Hall, Ritz Theater, Minute Man Statue, St. John's Episcopal Church, Veteran's Memorial Waterfront Park, and Boxwood Hall, which hosted George Washington and Alexander Hamilton among others. The walking tour gives visitors an opportunity to explore at their own pace and experience Elizabeth's history as New Jersey's first provincial capital up to the city's current role as the county seat of Union County.
Point of Interest: Elizabeth River Trail
The Elizabeth River Trail highlights the history of Elizabeth with artwork from local artists displayed along its path. The trail restores some of the natural beauty of the urban waters that played an important part in Elizabeth's development as a city.
Point of Interest: Ritz Theatre
Built-in 1926 and known for its Art Deco design, the Ritz Theatre is one of the largest and oldest fully operational theaters in New Jersey. Over the years, many legendary performers have graced this majestic theater's stage, from the Marx Brothers, George Burns, and Jack Benny, Ray Charles, Harry Chapin, Maya Angelou, Chaka Kahn, Rodney Dangerfield, Miles Davis, and many others. The theatre was a cultural landmark through the 1960s.
Point of Interest: St. John's Episcopal Church
Founded in 1706, the church is known for its features, including stained glass, rich woodwork and a cemetery. St. John's Episcopal Church is known as one of the oldest Episcopal Churches in America. Jonathan Dayton, who lived at Boxwood Hall, is buried in an unmarked grave in this church's cemetery. Dayton had served as a lieutenant and paymaster in the Revolutionary War. In 1789, he was one of four signers of the United States Constitution for the state of New Jersey.
How Does Elizabeth's History's Heartline Walking Tour work?
Including tours of Elizabeth Ave and Broad Street, the walking tour uses smartphone technology to bring the historic places of Elizabeth to life for visitors. When taking the tour, simply use a QR code reader app to scan the QR code seen at each historical site. Once downloaded, just press play on your smartphone and hear a description of each site as you explore it.

Elizabeth is full of history, beauty, and fun. Explore the city through not only walking tours, but also by public transportation to visit parks, shops, dining, and nightlife opportunities. Walk among history in Elizabeth, NJ.
Download our "Elizabeth's Historic Heartline" Walking Tour Pamphlet Here!